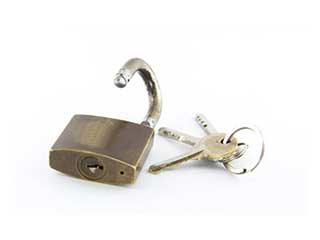 Lock and key repair are Usafe SF locksmith specialties no matter what type of system is used. High tech security vehicle systems, deadbolt lock installation, master key systems or plain old tumbler locks are no match for the skills of a professional locksmith. We get a lot of calls from folks all over San Francisco who need house or car locksmith services. And usually, on the double. There are some rare instances and scenarios, of course. But most of the locksmith service calls we get fall into a common pattern, which reflects what sort of lock and key needs people tend to get.
House & Car Lockout Services
Being locked out of a vehicle, home or business is distressing to anyone but it does not need to remain a problem. Just a quick call to our Usafe San Francisco locksmiths and help is on the way, around the clock. The trained technician can get into a locked vehicle without causing additional damage to paint, metal or the lock itself. The locksmith can extract broken keys from locks, make a spare key on the spot or tackle other tough security issues. Lost car keys prove a very common phenomenon, and it occurs far more frequently than people would like. With the daily distractions of everyday life, it's obvious why people lose their car keys every so often. Out of those regular occurrences, a significant percentage ends with a car lockout problem that requires the nearest locksmith to assist.
Car Transponder Key Replacement & Repair
New vehicles may have high-security systems that include computerized chip keys, motion sensors, and alarms that require special tools and knowledge for repairs. These systems advance every year, and the latest models flaunt some truly unique intricacies. A good San Francisco car locksmith must familiarize themselves with these trends and designs to allow her/himself to help people when problems crop up. Repairing or replacing car transponder keys can be tricky, unless you turn to a local pro. The San Francisco locksmith team is up to date on the latest systems to solve problems encountered daily with new systems.
Master Key System Installation
For home or business security, peace of mind is a large factor in choosing a locksmith to trust. Being licensed, bonded, insured and experienced are important things to look for when selecting someone to work on home or business security. The locksmith can repair or install master key systems that allow the manager or owner to have the master key for all locks. Individual employees then receive keys that only operate the locks for any areas they are supposed to have access to. This is a great way to ensure privacy, security, and confidentiality of sensitive materials.
Local SF Locksmiths At Your Service
Solve lock and key problems quickly, efficiently and safely by calling upon the San Francisco locksmith USafe team to do all required security work. Qualified professionals arrive promptly and get even the toughest jobs done correctly. We can help you with lost car keys, all sorts of lock repair and replacement needs, and a whole lot more. Call anytime for a fast response from the nearest 24/7 locksmiths in your area.