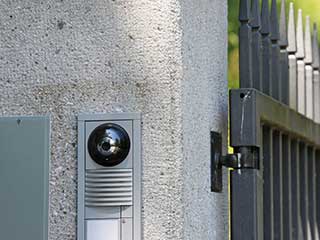 The safety and security of your home or business means a lot to you, no doubt. You've likely taken precautions to try and ensure your property stays safe from burglars and thieves. But do you have a way to track and document comings and goings of visitors and/or customers? Security cameras are an excellent way to keep a watch over your San Francisco property when you are and aren't there. With many solutions available these days, you can install security cameras around your property for a fraction of the price which they would have previously cost a few years ago.
San Francisco Surveillance Camera Solutions
If you are considering adding security cameras to your San Francisco home, the Usafe professionals can help you decide where to put them, how much to spend, and where to get them from. Our locksmith and security solutions offer folks all over the San Francisco area the best in terms of product and service quality. Choosing to install new security cameras in your home or commercial business will help you in numerous ways. You can keep your property safer, and have video evidence should crimes occur. In fact, even the presence of security cameras can often serve as a deterrent for burglars.
Home Security Cameras
The main goal of any security camera system in your home is for it to pick up as much of the house as possible. Whether that be the main room, the hallway, or the front entrance, make sure that you target a place where you would imagine that people will enter if they were to not have authorized access. Consulting with professional Usafe San Francisco security experts will help you choose the best locations for security cameras around your house or business.
Outdoor Security Cameras
Another excellent idea is to place security cameras outdoors to capture video of people coming and going or loitering around your San Francisco property. This will require a specific type of camera - so that the weather does not affect it. You've got a huge selection of options when it comes to outdoor security cameras. Therefore, you need to pick something that offers durability and reliability. The last thing you want is for a new security camera to stop working at the exact moment you want it recording. You also need tamper-proof security cameras for outdoors. Those make it incredibly difficult (or impossible) for would-be-thieves to mess with the cameras and disable or disrupt them.
Professional Security Camera Installation
The going rates for security cameras for the home these days vary a lot, often starting around $60 for a camera, and $200 for a panel that records and integrates the signals from all cameras around the house. A budget of a thousand dollars should get you an excellent system. The best place to get security cameras for residential purposes is through the Internet. The Usafe San Francisco Locksmith & Security solution experts can help you decide what sort of setup you need, and get a great deal and discounts on security cameras and systems. Our range of high-quality security products and professional locksmith services allows us to provide the best results at the best prices. Give us a call day or night to consult with the top locksmith and security experts near San Francisco.